I used to play a game called "Vampires! A Dark Alleyway." – The game is completely text-based and there are places like shops, pubs and train stations that you can visit and interact with. The "map" is 200x200 tiles, with city streets named after animals and trees, minerals and moods.
Players can interact in various ways, like talking, robbing and fighting.
Here is a screenshot of my vampire at a potion shoppe, Potionworks: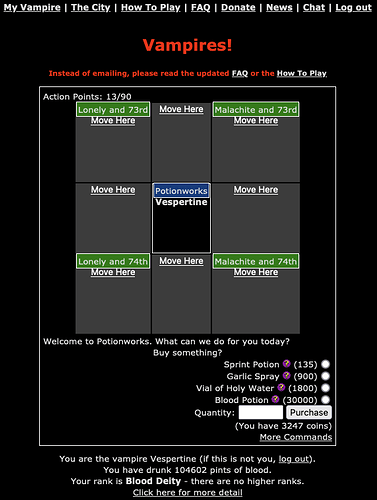 There are certain mechanics applied to shops:
They move every 12 hours.
Some shops will offer discounts.
All shops will change their prices based on your level of Charisma.
Here is a screenshot of a bartender telling me where the nearest shop is, after I purchase an expensive drink: https://i.imgur.com/RFkmANX.png
Just an idea, not sure where this could go, but it seems like a fairly easy idea to grasp, implement and makes sense for a text-based NFT to have a text-base game interface.
If anyone wants to chat more about this idea, feel free to hit me up on discord: yuppie#4081