ACE Loot Station aims to become the onchain PlayStation for Loot and Loot-like NFT holders. ALL Loot or similar NFTs holders can enjoy a game experience like Sony PlayStation through our ACE Loot Product. By building a ACELoot community and the same time inspiring third-party developers to develop games based on Loot NFT, the LootStation will empower Looters in all-round way.

https://aceloot.com
Become the on-chain PLAYSTATION for all LOOT users, a one-stop LOOT onchain game service platform, covering various functions such as game competition, social entertainment, defi mining, visual NFT asset management and so on.
1 ACE Loot-PlayStation
Loot-games:
The team will build multiple Ace-Series Blockchain Games for all Loot and Loot-like holders, MLoot, BLoot and SLoot holders. For example, Word Adventure Games, Black Bar Games, Kariogames, etc. All looter can play to earn rewards and enjoy benefit from the games.
Loot-home :(Looter's Onchain Playstation )
The team is building a 3D visualization interface for all Looters to manage their NFTs, tokens, games items, communicate with other Loot holders with immersive experience.
Loot-verse
The team will build a meta-universe based on the Loot paradigm NFT, Loot MetaVerse, or Loot-Verse for short. Loot-verse will invite builders, gamers, defi users and other projects to construct the Loot meta-verse with infinite imagination.
2 ACE-Loot NFT
ACE-Loot NFT will be unique NFTs with colorful plates and exclusive features, we will release the fair-mint NFTs in proper time.
3 ACEL TOKEN (Looters can claim for free by playing games)
We will issue ACEL as an incentive and governance token for Loot Station, and ACEL will be used for incentives and DAO governance for the Ace Loot community. ACELoot is a completely decentralized project, we will open source all our code. Of course, the contract has not been audited at the beginning. I hope participants are aware of the risks involved.
3.1 How to claim A CE LOOT PVE Rewards?
ACELOOT,Proof of Play to claim your rewards
Qualified Users:all Loot & Loot-like NFT holders (Mloot, Bloot,Sloot, etc)
How to claim: Qualified users can claim ACEL token for fee by playing PVE game: Hit-Ace-Boss.
Rules:A loot holder can claim once an hour. Click the hit button on the game page. A random hash number will generate. If the number is bigger than the given number, the users wins. Otherwiser, the user loses. The probability is 50-50. eg Each time PVE winners can claim 100 ACEL ,Losers can claim 25 Acel.
Total Rewards: 10,000,000
Release Schedule: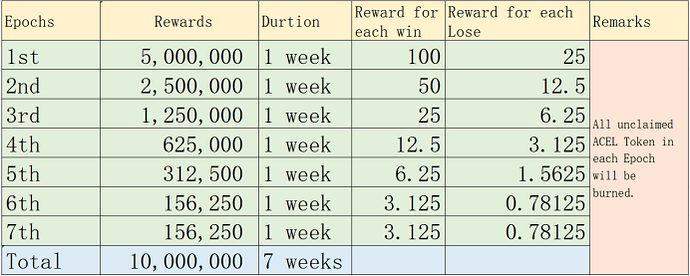 Tips: The game and whole process are all on ethereum mainnet.
3.2 ACEL Token Economy: allocation and distribution
ACEL Max Supply: 100 million

5% to DEV Grant
Schedule: 20% released at TGE,then linear release 1 in year
Purpose:The ACEL token will be used to build the first game and onchain frame work of Loot Station

10% to Team
Schedule: 20% released at TGE,then linear release 1 in year
Purpose:The ACEL token will be used to build the first game and onchain frame work of Loot Station

10% PVE Rewards
Schedule: 50% at TGE, reduce by half every epoch(week), total released in 7weeks.

25% to ACEL-USDC LP Staking sushiswap
Schedule: 20% at TGE, reduce by 20% every epoch(week)

50% Ace Loot PlayStation
Schedule: All these ACEL tokens will not be minted and keep locked until approved by DAO Governance Voting to incentive users, looters, developers, NFT mint and future distribution.
Purpose: The Loot PlayStation ACEL tokens will be used to incentive all looters in the following forms.
PVP Game: Looters can battle with other Looter at Loot PlayStation
Play to Earn: Looters can get ACEL Token incentive via play-to-earn all related Loot PlayStation games.
Builder Grants: All game CPs, contract developers.
4. About ACE Loot Playstation
One-stop onchain blockchain game, social, NFT, token service provider with 3D visualization and immersive experience for Loot&Loot-like holders and crypto generation.
In Loot Station, we creative infinite possibilities.
Source:
Twitter: https://twitter.com/acelooters