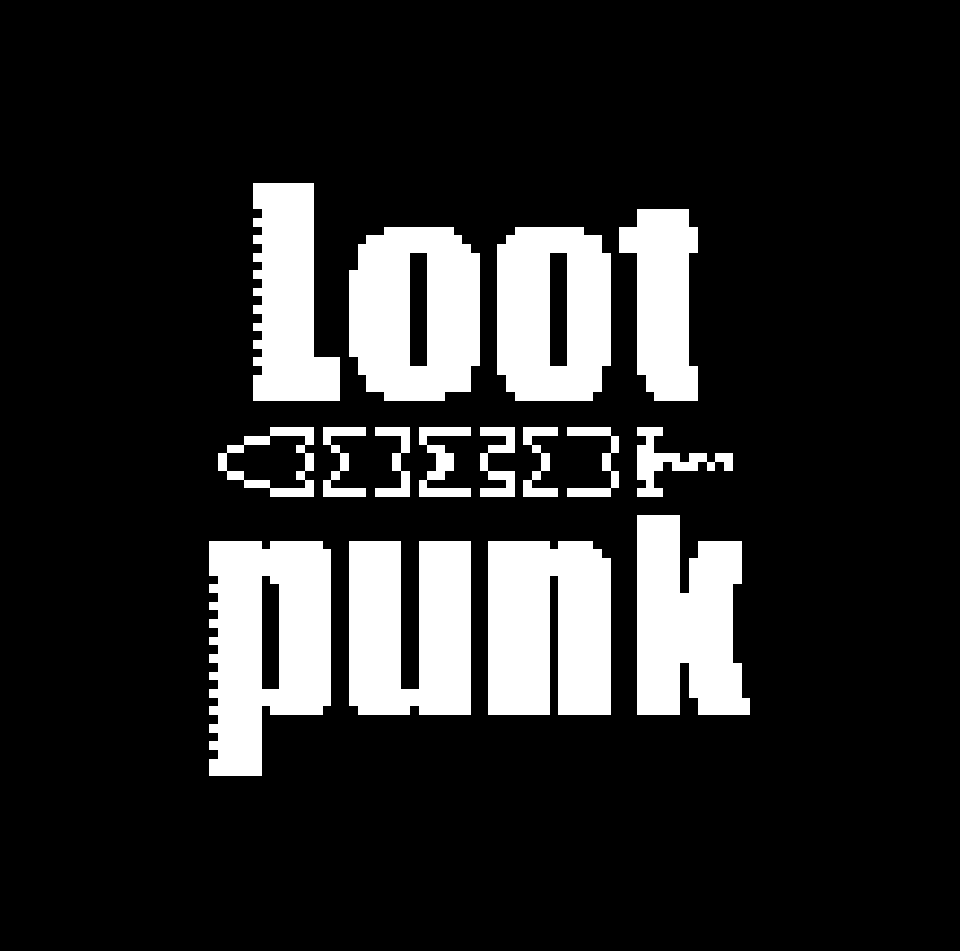 Why Loot?
Loot's philosophical concept of a bottom-up approach and community creates NFT appealed to me to the point of purchasing them without a care for their price. The current NFT market is solely based on the Creator's popularity and fame, while Loot is the opposite, focusing on the value of Contents. This ecosystem concept fascinated my virgin mind and prompted me to start this project.
LootPunk, why?
There are 2 reasons why I started this project.
The biggest influencing factor was the bottom-up approach: reinforcing the value of Loot. The 1st generation Loot NFT projects do not reinforce the value of Loot but rather reinforce the value of derivatives NFT. However, LootPunk focuses on increasing the value of Loot rather than its NFT.
The second is to allow a way for Loot holders to conveniently show off their investments. As a Loot holder myself, it was very difficult to introduce or even show my investments to others, let alone expect them to understand the value of Loot. To express this in the most relevant and easy-to-understand way possible, I made it similar to CryptoPunks. I am not an artist and do not have much skill like most of their other developers do, therefore, this is the decision that I stuck with. Additionally, when showing off our expensive investments, people will be able to easily identify the iconic style and recognize its value with one look. Just as many people are choosing to change their profile pictures to their investments, I thought it would be a great way to create awareness for Loot.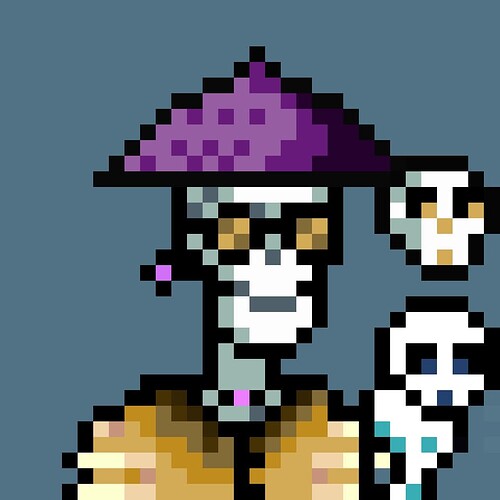 LootPunk, what is it?
LootPunk is a project to allow anyone to take one look and easily understand Loots' rarity and items' rarity. Additionally, LootPunk would be used as a profile picture for people to easily identify Loot.
How does LootPunk reinforce the value of Loot?
The minting amount is unlimited with LootPunk: minting does not disconnect the relationship between Loot and LootPunk. As long as you own Loot, you can mint anytime and as many as you wish. Take a moment and think of what an American Express black card or what a key to a Bugatti represents. It's a symbol of wealth but it is not the actual wealth itself. Anyone with a Bugatti can replace their key but not everyone can purchase the Bugatti. In other words, Loot holders can sell their Loot NFTs after minting a LootPunk NFT, however, new Loot holders can still mint their own LootPunk NFT. In this way, the value of Loot always stays with Loot, but will have LootPunk for people to easily identify Loots' and their items' rarity.
Why mint?
Why would we mint if there is no limit? Consider this thought, If a Loot holder mints a derivative NFT and proceeds to sell it, someone else buys that Loot and mints the same derivative. Who is the real LootPunk investor? We plan to provide our community with unlimited mint access but plan to differentiate between the true holder and the minted holder. On our LootPunk website, only those that can verify Loot and LootPunk at the same time will be acknowledged as the true LootPunk owner. Through MetaMask, for acknowledged true LootPunk owners, we plan to provide access links to allow them to use them for their profile pictures on their social media. We will not provide access links for those that only have LootPunk and not Loot.
Our next project on our scheduled plan is a game that will require LootPunk NFT to play. If a player wants to join, he or she may purchase a LootPunk to join and play. Lootbag investors will become an NFT Factory; with access to unlimited minting, they can sell the LootPunk NFT to new players.
*Loots with a unique race will have a higher value than Loots with a normal race. You may either purchase a Loot with a unique race to mint it or purchase just the LootPunk NFT minted by the owner of a Loot with a unique race.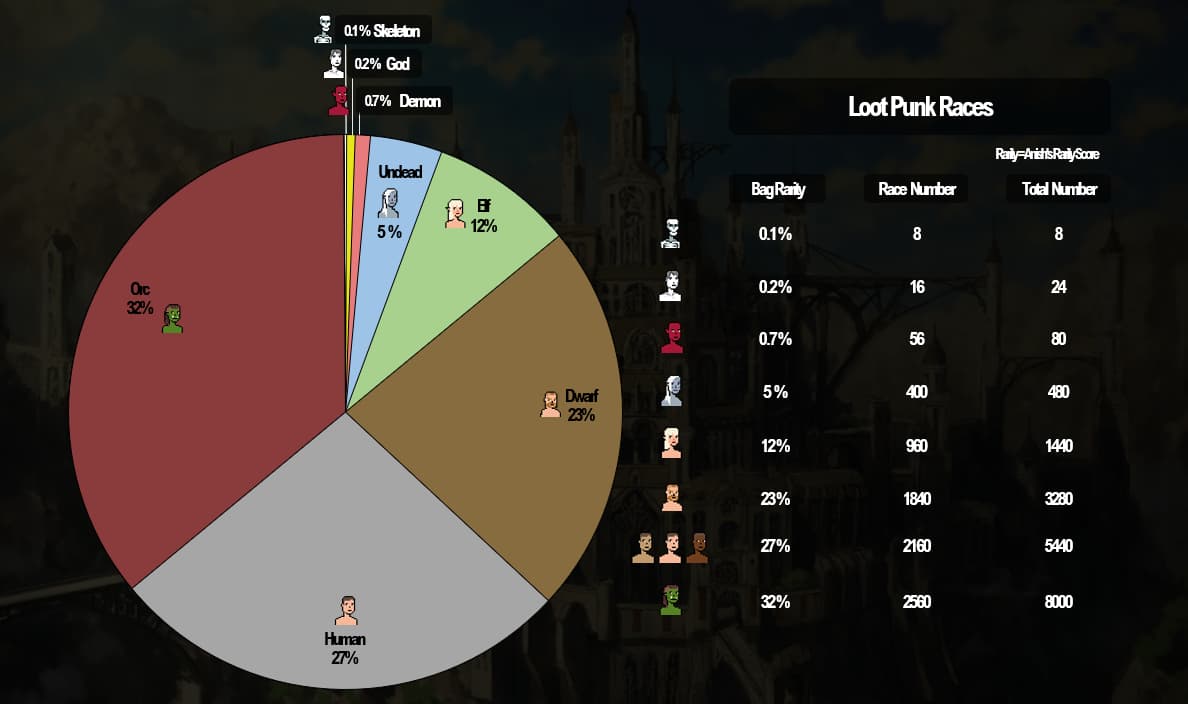 LootPunk races are based on Anish's score for Lootbag rarity.
To summarize, Loot is the first-ever decentralized project in the NFT market. To ensure a project like this can live on to create an empire and not fade away as something that just inspired others, each and every individual cannot just sit and wait for others to do the work but do whatever it is they can to work together as a community to raise the value of Loot. We hope that LootPunk will be able to spark a light that will spread throughout our community.
*Special thanks to Loot Community members and @lemonade_iced
We found the categorized rarity system interesting and decided to go with it.